Allina: Senior Systems Analyst - Medical Imaging
Hired in February, 2010 I accepted a role to work for Allina in the Medical Technology Systems department. This was an exciting opportunity to work on the full scope of medical imaging from configuring and building the overall system architecture down to the granular level of Radiologist workstation configurations.
I am fortunate to work with talented individuals that have been in the Healthcare industry for 15+ years and I quickly adopted a role focused on the archiving and routing of DICOM medical images. I love this position as it exposes me to the latest technology from servers and switches, to workstations and services.
Achievements
Robust PACS Architechture - 1 million a year
Data 100% Replicated - High Availability
Auto patient conversions via Health Information Exchange
Access to Images in Patient Chart via VitreaView
DICOM Restful Services: MINT, WADO
Employee Recognition Award: 2015 & 2016
Key Contributer Award: 2015
---
DICOM
Comprehensive knowledge of DICOM medical imaging tags, transfer syntaxes, and photometric interpretations.
HL7
Health Level Seven integrations with auto-prefetching ro relevant prior exams.
HIE PIX Queries
Health Information Exchange patient ID auto-tranforms from disparate organizations using PIX queries.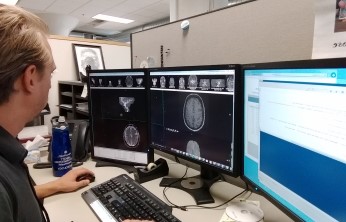 Integrations
Connected to 30 outside organizations and growing.
Scalability
Three terabytes of data throughput daily. 1.5 million exams acquired annually.
Restful Services
Taking DICOM to the next level leveraging MINT and WADO.
---
Logical
Calm solutions under high pressure circumstances.
Progress
I use SCRUM and agile project methods to organize and prioritize my personal and professional to-do lists.
Programming
I spend most days writing SQL queries and stored procedures. Often i use Powershell to script events.
Diligent
Clear expectations and deadlines.
---