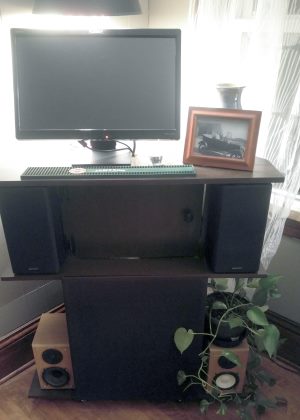 I've always thought it would be cool to have a permanent multimedia station for music and videos when entertaining guests. When Laura and I were discussing our music plans for our wedding it proved to be the perfect opportunity to learn some woodworking and build what I always wanted! This also would prove a little cheaper than hiring a DJ and we'd ensure the songlist would be exactly what we wanted. Plus then we'd have a banging sound system to use at home!
I had a few challenges with this project, mostly on the construction side but I'm pleased with the results. I've even transported it to use at another wedding and it was a big hit! First up are the project requirements and cost of materials:
Must be self contained, no externally connected peripherals
Design must be easy to move and can fit into a corner
Clear sound, low distortion at high volume
Clean intuative user interface
Low latency wireless microphone
Silent operation when not in use

Live TV
Webcam integration
Building the Frame:
Having little exposure to woodworking, I was excited to learn a new skill which comes at the cost of making many, many mistakes. After getting some inspiration looking online as some similar jukebox/media centers I decided on a chest-level tabletop design that would fit in a corner. The frame would have three shelves, the bottom to hold the subwoofer and audio components, a middle shelf to house the PC components, and then the top shelf to set the touch-screen monitor and drinks. Since all three shelves needed to line up with the same frame, the first challenge was to build two boxes on top of each other that share a common ceiling/floor.